Sprint traces 'current challenges' back to 2005 Nextel merger
The U.S. Federal Communications Commission has paused its review of the proposed merger of Sprint and T-Mobile US to catch up on related filings. Despite the pause, the filings keep coming with Sprint on Sept. 25 filing a "business presentation" meant to highlight the carrier's network and business challenges and bolster the case for the merger, which would consolidate the domestic carrier market from four to three Tier 1 operators.
The presentation traces the Overland Park-based operator's current challenges back to 2005 when Sprint and Nextel merged. In the seven years following that $35 billion transaction, Sprint tells regulators it lost $37 billion "related to the deal."
Some other milestones called out in the filing include "network disruption and churn" related to a "rip and replace" network upgrade. Then, in 2014, the carrier details the layoff of 2,000 employees and move to scrap plans to deploy 12,000 wireless sites to support its 2.5 GHz holdings. In the 2017 to 2018 timeframe, the carrier said it abandoned its monopole deployment plan taking a $180 million "write off in abandoned sites."
Here's the full graph submitted to the FCC.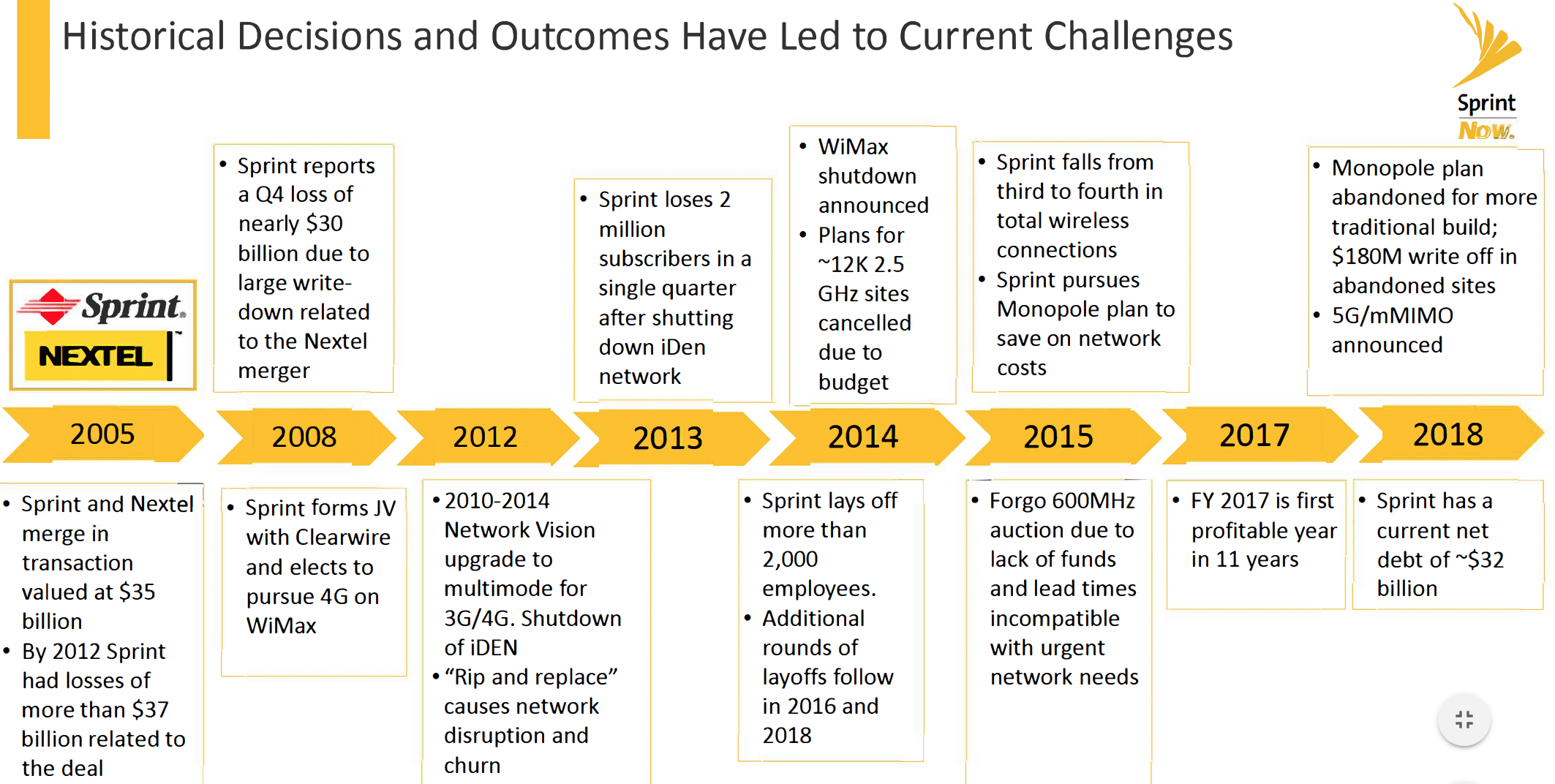 Sprint also bullets out its "shortcomings" that "limit our ability to attract and retain subscribers."
"Coverage and consistency challenges impact both network performance and customer perception;
"Sprint's network perception lags far behind other carriers, making it very difficult to sell our network;
"Poor network experience is a leading cause of Sprint's subscriber churn."
Another major limiting factor  is the level of capital investment in the network as compared to competitors. In the time period between January and December 2017, Sprint says it spent $2.51 billion, while T-Mobile US invested $5.24 billion, AT&T spent $9.36 billion and Verizon laid out $10.31 billion.
Although some sections of the document are redacted for public inspection, the story Sprint tells ends with a slide titled, "No Obvious Path to Solve Key Business Challenges."
Click here to review the entire filing. 
The post Sprint to FCC: "Sprint's network faces severe challenges" appeared first on RCR Wireless News.