According to Ericsson, cloud gaming is expected to reach 99 million North American 5G subscribers over the next decade
According to a new 5G cloud gaming report published by Ericsson's strategy consulting arm inCode, cloud gaming is expected to reach 99 million North American 5G subscribers over the next decade. That equals approximately 23% of the 5G subscriptions in the region. Further, the report explored the willingness of gamers to pay more for a network slice dedicated to gaming.
The promise of cloud gaming, which refers to running a game on a nearby server and streaming it to the player, is that it frees the player from the confines of relying on a computer or console with powerful, expensive graphics and hardware.
"Cloud gaming is changing the content distribution dynamics in the gaming industry," Ericsson explained further in the report. "The technology promises affordable ways for gamers to play anywhere, without users continuously purchasing hardware upgrades or expensive games."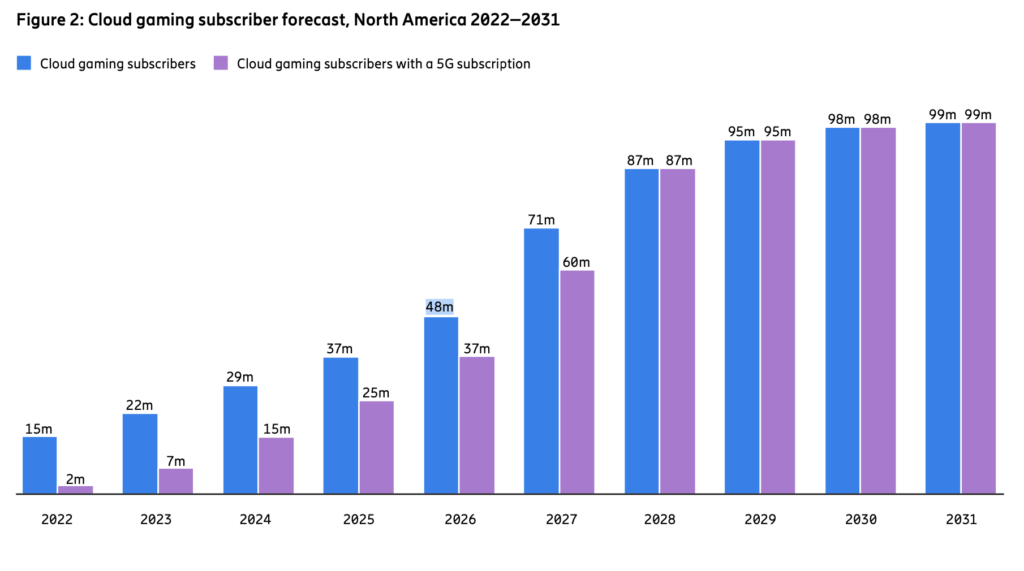 This promise, though, depends on delivering a console-like experience, and therefore, the quality and reliability of a gamer's connectivity is paramount. In fact, according to the report, 47% of gamers said that reduced lag is a key connectivity improvement.
5G is expected to offer the required low latency and high-speed connectivity, as well as the ability to handle the high data demands expected from gaming platform subscribers, that this segment needs. As a result, as Ericsson pointed out, estimates suggest that 67% of cloud gamers will have 5G devices in the next five years, growing to 100% before the end of the decade, proving that gamers, in many ways, are leading the adoption of consumer 5G.
Ericsson acknowledged in its report that how to monetize 5G remains "a fundamental question" for connectivity and service providers, adding that the answer lies in the ability to offer differentiated services that generate new revenue.
Gamers might be the ticket here. Ericsson explored the willingness to pay for enhanced connectivity using a simulation of a sample market in North America, which assumed that cloud gamers would be willing to pay between $5.49 and $10.99 more per month for connectivity that guarantees minimum speeds and low latencies. The simulation resulted in 4% overall incremental service revenues by the end of the decade.
"Our analysis of the gaming market trends suggests that almost 80% of gamers are willing to pay more for enhanced 5G connectivity on top of the basic monthly bill, which on average is $44 subscriber in the US," stated the report.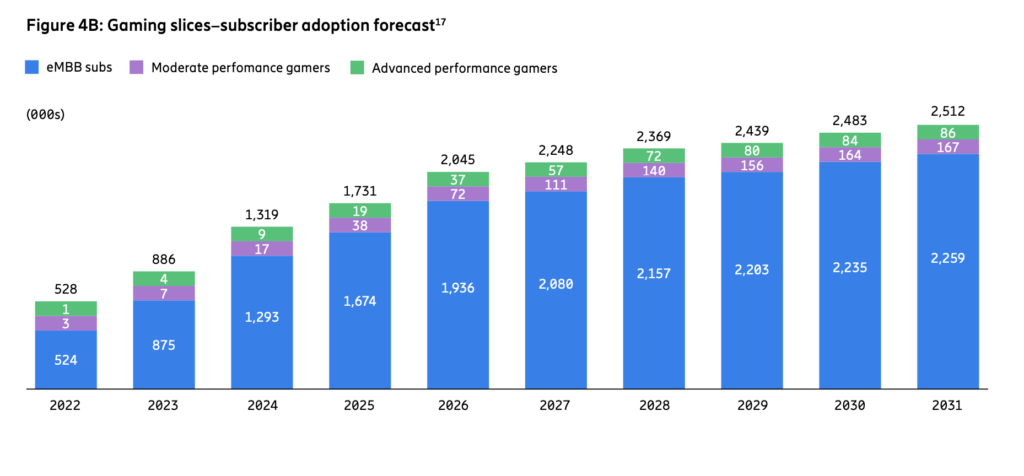 "Cloud gaming will be one of the first consumer use cases to capitalize on the low latencies and high speeds of 5G networks, driving revenue uplifts to traditional service revenues," the report said. "However, service providers can extend the technical frameworks of network slicing and digital enablement to deliver more differentiated services for both consumers and enterprises."
The post Cloud gaming is 'driving 5G revenue uplifts,' says Ericsson appeared first on RCR Wireless News.