DSS can ease the transition from non-standalone to standalone 5G
For operators looking to quickly scale 5G, the DSS value proposition is crystal clear–instead of rolling trucks to re-farm spectrum for 5G on a site-by-site basis, a software upgrade can be remotely pushed to base stations enabling DSS. There's another strategic element here too–solving for 5G coverage prior to turning up a 5G core makes for a smoother transition to standalone 5G and the associated revenue opportunities.
Before diving into the specific role DSS plays, let's establish a big-picture 5G vision as described by Sibel Tombaz, Ericsson's head of 5G high-band and active antenna systems. The primary use cases 5G is and will support are enhanced mobile broadband, massive internet of things, critical internet of things and fixed wireless access. To do this, 5G needs to deliver more capacity and higher peak speeds to keep up with increasing data demands made by an increasing number of devices; high-band frequencies can provide capacity and peak rate enhancements. 5G also needs to deliver lower latency and bespoke network slices pinned to the quality of service requirements for a particular device or use case; doing that requires a standalone 5G architecture with a next-gen core, RAN and upgraded transport. And, because this is all done by a mobile network, there has to be coverage–"Coverage is always the king and will be the same for 5G," Tombaz said–and coverage means low-band frequencies. All of these things, she said, are "extremely dependent" on one another.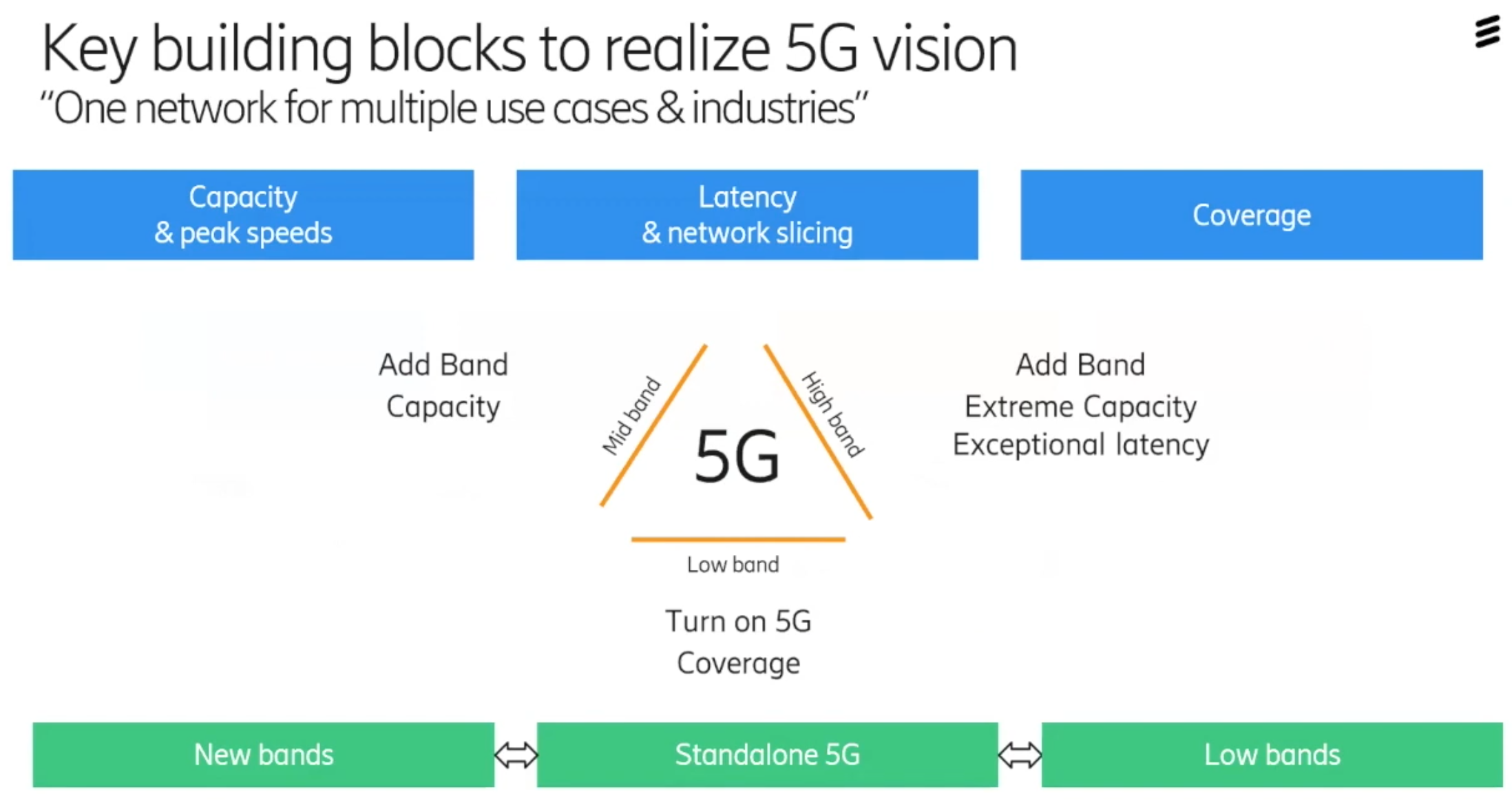 Qualcomm's Dean Brenner, senior vice president of spectrum strategy and technology policy, said Dynamic Spectrum Sharing "accelerates and expands the 5G rol out instantly because we don't have to do re-farming. We can immediately get 5G deployed into the legacy 4G bands." In terms of using DSS to get from non-standalone to standalone 5G, "DSS is a very important bridge to get there. DSS is pushing 5G coverage out as expansively as possible. So that means when the 5G core is launched, you're already going to have this very, very broad 5G coverage. If you didn't have DSS, you have kind of two problems–you have to get to the 5G standalone core but you also have to get 5G built out."
Tombaz sketched out a hypothetical operator migration from non-standalone to standalone 5G. The operator has an LTE network and acquires new mid-band spectrum for 5G, which is initially deployed at existing radio sites. A non-standalone architecture using dual connectivity "means that there is a benefit by utilizing LTE to increase the coverage because the user can actually switch the uplink," she said. "This gives quite significant coverage gain." But if an operator tries to move from here to SA "without investing in and look at their coverage layer, they will lose coverage. You suddenly lose the NSA and the link between your mid-band and your LTE band. That is the place where low-band is becoming essential. If suddenly we can turn one of these LTE bands to NR using spectrum sharing, with this case then I will provide full coverage with 5G in the network. This is the only way [operators]can look into different business and different use cases." 
Rohde & Schwarz Technology Manager Andreas Roessler discussed DSS as a way to avoid a potential capacity crunch through the process of transitioning subscribers from NSA to SA 5G. "What we see in the industry right now happening, especially here in the United States, that operators can now also provide a coverage layer using 5G NR at the lower frequency bands, for instance in the 800 MHz range." With the coverage layer in place using DSS, followed by a transition to standalone, "you can utilize carrier aggregation here to create the wider data pipes."  
The post The Dynamic Spectrum Sharing value proposition–scale and standalone appeared first on RCR Wireless News.