Business, educational and communications application usage is up, while shopping apps are seeing a decline in usage across Europe as people adjust their mobile app usage to their needs during the novel coronavirus pandemic.
Those conclusions come from network benchmarking and analysis company umlaut, which examined its data for usage trends in the European countries of Germany, Italy, France, Spain and the U.K. from the beginning of January through March 25.
Among umlaut's findings:
Across Europe, umlaut reported that the usage of large international shopping apps dropped as people went into lock-down. However, there were some exceptions: In Italy, umlaut noted that after lock-downs went into effect, demand surged for local retail apps.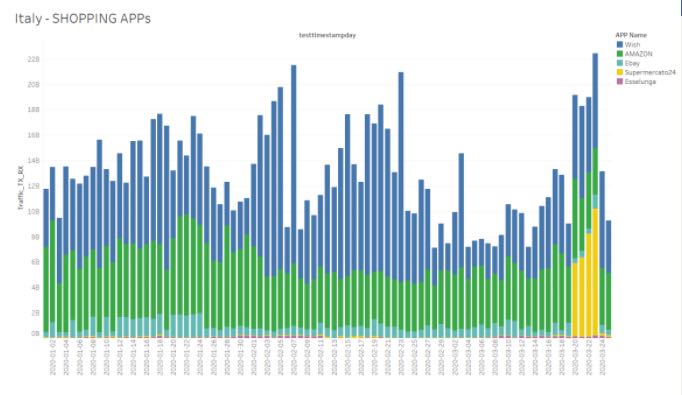 Communications app usage was up across the board. In Germany, WhatsApp and Instagram drove most of the increased usage, while Spain saw a tremendous increase in WhatsApp traffic.
In the U.K., Google Hangouts saw an early surge in use, but Microsoft Teams has seen a more sustained rise in traffic and Zoom use has been growing as well. In Germany, the use of Zoom and Microsoft Teams began to rise in late February and soared in March, with Cisco WebEx and Google Hangouts also seeing a smaller bump in usage.
Educational apps in local languages are driving large increases in educational app usage. For instance, in Germany, almost all of the increase in educational app usage came from a German app, Anton. In Italy, Google Classroom and WeSchool saw a bump in usage, but those were dwarfed by the spike in usage of educational communications app Edomodo. Spain saw increases in usage of ClassDoJo, Google Classroom, and Educamos Familias. In the U.K., the use of classroom communications app Kahoot! surged for a two-week period in March and then was overtaken by the use of ClassDoJo.
Umlaut reports that its app runs in the background of 200 million devices around the world and provides 50 billion data points per day.
The post Stay-at-home orders shift European app usage, umlaut finds appeared first on RCR Wireless News.